How To Start A Business In India: A Step-By-Step Guide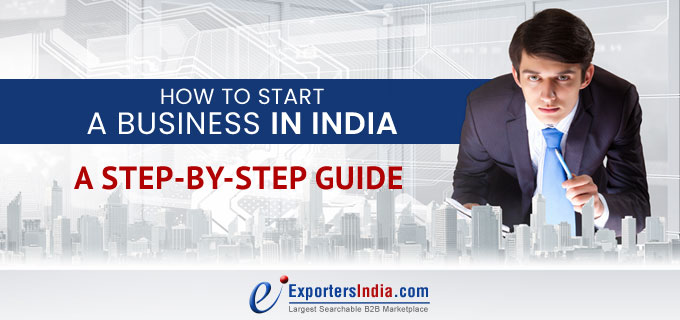 With India jumping 23 notches in the World Bank's 'Ease Of Doing Business' index and ranking 77 in the list of 190 economies, the interest of people in starting up a business in India has seen an upward swing. If we talk about the last two years, India has moved 53 points up in such a short span of time and created history. Considering the three major indicators of establishing a business, i.e., getting credit, getting electricity, and protecting the investors, the country ranks among the top 25 nations. In the coming 50 years, India is expected to make its place in the top 50 nations in World Bank's doing business index. This has gotten many entrepreneurs and start-up minded people to pondering about establishing their business here but the question that now circles around their mind is 'How to start a business in India?' If the same question is on your mind, keep reading to know the different steps to starting a business in India.
( Also Read: How B2B Portal Can Help You Develop Your Business )
Research The Market For A Unique Idea
The first thing every entrepreneur should start before establishing a business is to study the market, other businesses, and their market strategy. This would help you find your unique business idea and your niche. You need to focus on the market that you want to target and the competition and perform SWOT analysis for the same. Know what you want to do with your business and why you want to choose that particular industry, product, or service for your business before you move forward with that idea.
Lock The Financial Aid
Once you have the business idea, it is time to research the different sources of funding for business in India and see what works best for you. For this, you'll need a rough estimate of the money that you need to set up, launch, and start a business in India. Many schemes and government initiatives for SMB can also offer financial assistance. There are a number of banks, financial institutions, angel investors, venture capitalists, etc., who are ready to fund a good business idea. Apart from that one can self-finance the business, get money from family/friends, or opt for crowdfunding for starting their business.
Have A Business Plan
With the idea and finances in line, it is time to devise a business plan that would help you set up, promote, manage, maintain, and scale the business. This would include your executive summary, the description, product/services being offered, market research & analysis data, key performance indicators, growth strategy, vision, team management, and the financial goals and planning. This business plan would work as a guideline for your business to work properly and move forward.
Get It Registered & Make It Legal
When planning to start a business in India, having a unique idea, funds, and a visionary business plan wouldn't suffice. You need to follow a strict procedure to get it registered with the government and other ministries to make it legal. Here are the steps to follow for registration:
Apply For Director Identification Number:

File the DIN-1 application form online to get the DIN issued

Get Digital Signature Certificate:

MCA 21 authorized agency should certify this digital signature certificate

Finalize A Company Name & Reserve It:

Ensure your desired company name is available on MCA 21 website and reserve it

Get Incorporation Certificate:

Get Memorandum and Articles of Association stamped and fill forms 1, 18, and 32 and submit to Registrar of Companies for the Incorporation Certificate

Make Private Seal:

A seal should be created for the business

Obtain PAN & TAN:

Apply through Form 49A for PAN and Form 49B for TAN to obtain these documents for your business

Get Registered With Office of Inspector, Shops, and Establishment Act:

The business should be registered within 30 days

GST Registration:

GST registration is essential for businesses with turnover above 20 lakhs

EPF Registration:

Businesses also need to register with the Employees' Provident Fund Organization

Medical Insurance Registration:

Form 01, mentioned in the Employees' State Insurance (General) code should be filled
Once the business is registered and has its legal holding in India, it is important to start focusing on its sales and customers to ensure it has a firm grip in the market. In the early stages after starting a business in India, business heads should make sure to keep a close tab on improving and escalating their sales and building customer relations instead of directly scaling the business to the next level. The ease of doing business in India has certainly improved and the government has also taken many initiatives to ensure it keeps on attracting more entrepreneurs and embrace start-up culture.
Category Tags