B2B Email Marketing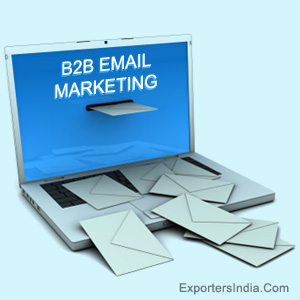 B2B Email Marketing is an interesting mode of Internet marketing. Via this tool, various organizations working in the Business to Business setup get to know each other and find out the feasibility of their business relations. It enables the firms to immediately connect to a large number of organizations in their industry. As a result, the number of queries also rises. Email Marketing is an excellent way for an organization to get a distinct identity amongst various organizations in the industry. It makes for an ideal platform to develop relations with prospective clients and persuade them to fix a deal. Moreover, it also facilitates the recipients by providing the contact information of the company. When implemented properly B2B Email Marketing can go a long way in marketing a company and building its credible reputation in the market.
Some Of The Most Significant Advantages Of B2B Email Marketing Include: It acts as the ideal platform for developing new business relations.
One can conveniently inform the existing clients about the new offerings of the company. An immediate increase in the queries can be expected.
It provides the option of targeting the relevant organizations in the industry.
Since it is an online mode of marketing, there is no wastage of the funds allocated.
Apart from the conventional mode of sending promotional content in the form of emails, one also has the option of creating and sending a Newsletter related to the news of the industry. This mode will keep the readers engaged. In addition to this, one can ask similar companies to provide latest news about their company and incorporate it in the newsletter. It will enhance the goodwill of your company. At the same time, you can ask for commissions from these companies.
Category Tags
2 thoughts on "B2B Email Marketing"
Awesome Writing. It's really giving me hits

Hi, I agree with u,b2b very interesting marketing line. B2b makes a new business relations . thanks so much that about say to B2b is very good. Thanks